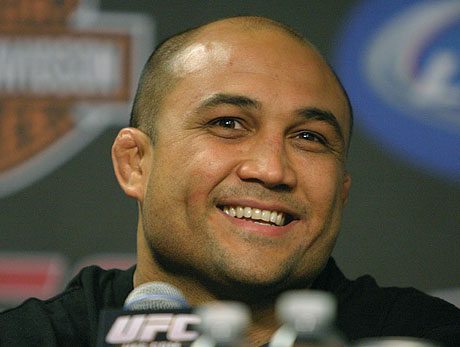 UFC President Dana White recently spoke about the Strikeforce Lightweight title fight between Gilbert Melendez and Josh Thomson III on May 19 at Strikeforce: Barnett vs. Cormier, as well as the fight that could have been between Melendez and B.J. Penn. Here is what White had to say:
On trying to get B.J. Penn to fight Gilbert Melendez:
"I tried to do [Melendez vs. Penn], but it was at the time when B.J. was like, 'Yeah, I'm not fighting for a while.' [Now] he wants to come back."
"Whenever he's ready, that's up to him. Whenever he's ready. I don't ever push guys. Guys know when they're ready. Guys know when they want to come back. This isn't a sport where you can just say, 'I know your head isn't in it right now, but get back over here and fight.' This isn't that kind of sport. Guys let me know when they're ready to fight."

On Penn retuning at 155 or 170:
"I'm done with telling him where to go as far as weight goes. The guy's handled himself in both weight divisions, and if he wants to come back at 170 – plus you get to an age where cutting down to 155 just doesn't make sense anymore."

On Gilbert Melendez going from Strikeforce to the UFC:
"Gilbert Melendez is a Strikeforce fighter. He's been great in dealing with it. He wants to come over here, and he wants to challenge himself against the best, and I know a lot of other people want to see it, too, but he's in that Strikeforce deal. The thing that sucks for Gilbert and that's disappointing is that I was 100 percent fired up and gung ho to go over there and work on Strikeforce. The whole thing fell apart. I know he's bummed out about, and other people are, too, but it is what it is. It just didn't work out." 
What do you think?
Comments