Jon Fitch on submitting UFC 156 opponent Demian Maia- "If anybody can do it, I'm the guy."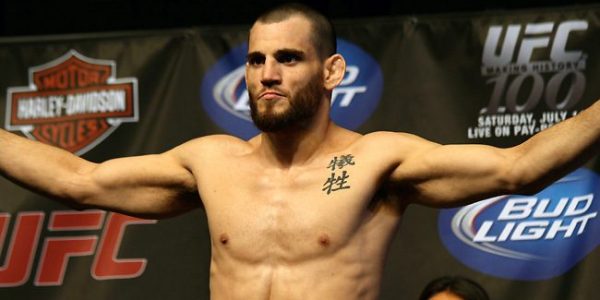 While his grinding style has aggravated some MMA fans in the past, "boring" probably isn't the best word to use when describing UFC welterweight Jon Fitch. With a thrilling win over Erick Silva in the rear view mirror, and an appealing scrap with BJJ ace Demian Maia cued up for UFC 156 on February 2, it's shaping up to be a wildly exciting few months for the American Kickboxing Academy representative.
Now, despite being just over a week away from fight night, Fitch took time out of his busy schedule to speak with KNUXX about his career and his upcoming showdown with Maia. So far, he says his training for Maia has been fruitful.
"It's been a good camp, my body is healthy, and I'm excited about getting to fight on a free card on Superbowl weekend. I'm excited that I get to fight consistently again and I don't have to wait around six to eight months between fights," he said. The welterweight contender will enter the bout with Maia with an impressive win over rising prospect Erick Silva in his wake. Before the win over Silva, however, Fitch hadn't won a fight in over a year, first fighting BJ Penn to a draw at UFC 127, and then losing to Johny Hendricks by knockout at UFC 141. Given this, Fitch's return to the win column has him feeling reinvigorated.
"It felt great. It's an extra-special feeling, being backed into a corner and only having one option; to succeed, and suck it up and find a way to win it." Fitch's fight with Silva proved to be one of the most memorable of 2012, as the pair battled it out and showcased all facets of MMA. The performance earned both men a $70,000 fight-of-the-night bonus, and proved that Fitch is more than capable of putting on a heart-pounding show. Still, the former Purdue wrestler isn't concerned with his doubters.
"It's not my intent to go out and silence critics; I'm more out there to entertain my fans who have been there for me. I think that fight was more for those people who have supported me over the years; I wanted to go out there and put on a special performance for them. And my teammates as well, I wanted to motivate them, because we'd had kind of a rough year up to that point, so I just kind of wanted to take it home and get them excited for the next year coming up." While Fitch did emerge the victor from his battle with Silva, he wasn't without close calls. Throughout the fight, he craftily, albeit narrowly, avoided the dangerous submission game of his young opponent. Fitch's sub defense, coupled with the fact that he has lost just once by submission in 28 pro fights, have fostered the opinion that he is almost impossible to submit—and this is a reputation he welcomes.
"It's a good reputation to have because it puts a little extra fear in guys and sometimes it makes them a little scared to put in that extra effort because they don't want to waste energy trying to finish you when you're just going to pull out, and they're going to be tired and you're going to be fresh. I've put a lot of work into understanding the game, and understanding jiu jitsu, and the human body and how it works, and how to escape a lot of those submissions, especially the chokes. When I first started, as a wrestler, I would kind of lead with my head, so when I first got out to AKA ten years ago, I was being choked left and right. So one of the first things I had to establish was a choke defense." Still, if ever there was a man to submit a fighter who can't be submitted, that man is Demian Maia, who has some of the most feared jiu jitsu in the game today. Given this, Fitch doesn't plan to spend any unnecessary time in his opponent's comfort zone.
"He's definitely somebody who I don't want to play around with. I'd rather avoid that as much as possible. With someone like Demian Maia, avoidance is the best policy," he said. Needless to say, he has spent a lot of time preparing for the primary weapon of his upcoming opponent.
"I've been training with a lot of bigger guys because Demian's more methodical, and he has a pressure, grinding style of jiu jitsu. He gets on top, and he puts pressure on you and tries to make you make mistakes, and then he locks up your neck or arm or whatever. From his back, he's not super explosive, but he's slick. So, training with bigger guys has been helping me. I've been training with Strikeforce champion Luke Rockhold. He's been one of my training partners for the fight, which has been helping a lot. I've got a bunch of other guys at AKA that I can mix it up with." Still, there is always the possibility that Fitch and Maia, two outstanding grapplers, may opt to steer clear of each other's strengths and sort this one out on the feet. It wouldn't be the first time we've seen this happen. Should this be the case, Fitch also has respect for Maia's striking.
"He's long, and guys who are long can be fairly difficult. He's also a southpaw, so there are definitely strengths he can utilize to make it difficult for me. But I have a number of southpaws to train with, so I've gotten pretty dialed in on working with southpaws." Fitch and Maia, however, have both proven to be willing to fight in any area of the game, against any opponent. Based on this, Fitch expects the fight to unfold everywhere.
"I think this fight has the potential to be all over the place. Even though I get labelled as a wrestler, I've got competent stand-up and I can use it very well to set up my wrestling. It's really not that I'm that awesome of a wrestler straight on, it's the fact that I can use movement, and my hands and kicks and head movement to set up takedowns," he said. Of course, the most impressive way he could win this fight would probably be to submit his submission-savvy opponent—an outcome he has certainly thought about.
"You know, it would be a nice feather in my cap, but I think a submission over him would be something I would get out of breaking him, and using pressure to get him tired and make him make mistakes. But I think if anybody can do it, I'm the guy to do it." Regardless of where the fight unfolds, if Fitch is able to steal the win, his already respective status in the welterweight division will take an important step upwards. And while Fitch admits this is the kind of thing he used to be deeply concerned with, he says he has realigned his priorities.
"I really changed my focus before the last fight with Erick Silva. I'm really trying not to pay any attention or care about any of that. I have one fight, and one job, and one thing to take care of, and that's what my entire focus is. I think that's something I was kind of lacking in before. I was too scatterbrained. I was too worried about what's going on over here, or over there and how far away am I from a title shot. I think that takes a lot away from your focus, and I think it took away from my performances. It's about one guy, and one fight, and I don't care about what else is going on—and I think that attitude is something that's paid off. It takes a lot away from you when you're not focused on that one target." When Fitch finally meets his target at UFC 156, he expects a fight as thrilling as his last, a visual feast for grappling fans, and a fight that will not soon be forgotten.
"I don't want to give too much away about my strategy, but I think you're going to see an exciting fight and two high-level grapplers go at it. I'll be ready for him."
Follow Tom Taylor on Twitter @TomTayMMA