This post may contain affiliate links to products or services which, if you purchase, may result in my earning commissions at no additional cost to you.
UFC welterweight fighter Donald "Cowboy" Cerrone has been one of our favorite fighters to cover, interview and follow here at KNUXX. He's always ready for a fight and down for any new adventure.
He has a promising second career as a desert racer. When he is not fighting for a shot at a UFC title, Cerrone spends a good part of his time battling for wins at an off-road UTV racer. Cerrone has a 36-16 UFC fight record while fighting in the lightweight and welterweight classes since 2007.
Outside of his lucrative mixed martial arts (MMA) fighting career, Cerrone competes for wins in the legendary Baja 1000 endurance desert race that currently is part of the SCORE Off Road Racing slate of racing events.
Cerrone also competes in other long-distance desert races with his race-ready UTV. Most UTV races are held in the Desert Southwest, which is a perfect complement for Cerrone's MMA training for the Las Vegas-based UFC fight league.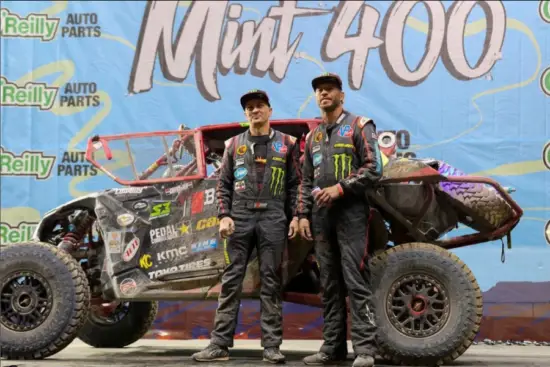 What Is a UTV or SXS?
A UTV is a utility terrain vehicle that primarily is a modern ranch workhorse. A UTV is designed to get work done in locales where roads are scarce or nonexistent. UTVs are smaller than most cars and about the same size as a Cooper Mini. They usually seat either two or four passengers side by side with storage space in the back for tools and cargo.
They sometimes go by the acronym SXS as well – this stands for side-by-side and refers to the fact that passengers sit next to each other in the vehicle.
UTVs ride on four wheels like cars but are lighter and have much better suspension systems. UTVs weigh significantly less than automobiles and do not need large engines to produce enough power to go very fast. The bodies are made from lightweight and strong metal tubes with very light and easily replaceable body panels added.
Operators use a conventional steering wheel and foot pedals to control UTVs. Seats are equipped with safety restraints to help keep passengers secured during rollovers and sudden stops. Some UTVs have windshields, and most include roll bars for better stability and protection during rollovers.
A UTV can accelerate very quickly and reach top speeds greatly exceeding 100 mph. They are larger and more comfortable than ATVs. They also can haul more and go faster than ATVs.
You can check out more UTV, ATV & SXS racing information on our sister website, gearslap.com
What Kind of UTV Does Cerrone Race?
Cerrone races a specially modified UTV and first competed as a celebrity entrant in the famous Mint 400 desert race near Las Vegas. Cerrone is a former motocross racer who fell in love with UTV racing following his Mint 400 participation in 2020.
Cerrone only raced a lap, along with other celebrity drivers. But the experience convinced him to pursue off-road racing. Cerrone soon after bought a Maverick X3 Turbo RR that the folks at Long Travel Industries converted into a dedicated desert racer.
Cerrone enlisted the help of experienced racer Marc Burnett to teach him how to race UTVs. Burnett is a two-time SCORE champion. Burnett also taught Cerrone how to pre-run desert racer courses. Pre-running the courses helps racers to develop a race strategy and come up with the racing tactics needed to win. Cerrone used that knowledge to run in the 2021 edition of the Baja 1000.
Why the Baja 1000 Is a Legendary Race
The Baja 1000 desert race is one of the best-known long-distance off-road races in the entire world. The annual event has been held since 1967 and usually runs in November. That is when the weather is cooler than in the summer and more predictable than during the winter.
The Baja 1000 race evolved into one of the world's best-known events of its type and attracts many high-profile racers like Cerrone.
Legendary Hollywood actor Steve McQueen was a competitor in the 1969 Baja 1000 with co-driver Harold Daigh. McQueen and Daigh raced their custom "Baja Boot" off-roader, but a broken transmission ended their racing effort after 237 miles.  
The Baja 1000 gets its name from Mexico's Baja California Peninsula where it is held. The race format has fluctuated from 600 to 1,000 miles over the years. And the route has varied from a north-to-south route from Ensenada to La Paz to a circuit starting and finishing in Ensenada.
The Baja 1000 currently is the final leg of the four-race SCORE International racing series. The race lasts for more than one day and includes overnight stops for competitors.
The race took a break due to the COVID-19 pandemic and was not run in 2020. But the 2021 edition occurred and was won by The McMillin Racing team. The racers were Rob MacCachren and Luke McMillin.
Cowboy's Racing Future
Cerrone competes in the UTV Rally Class as number U906. He also has modified a Toyota 4Runner for off-road racing. He recently competed in the BMF 50 Race while using the modified 4Runner.
Like all new racers, he has a lot to learn, but Cerrone has the support and a winning attitude to make it happen. Whether he continues pursuing racing as a passion or becomes a professional racer with a full-time effort remains to be seen.